If you have registered your domain name with D9 Hosting, and wish to point the domain to your webspace, you can change your nameservers by following the steps below:

1. Log into your D9 Client Area and click on Domains > My Domains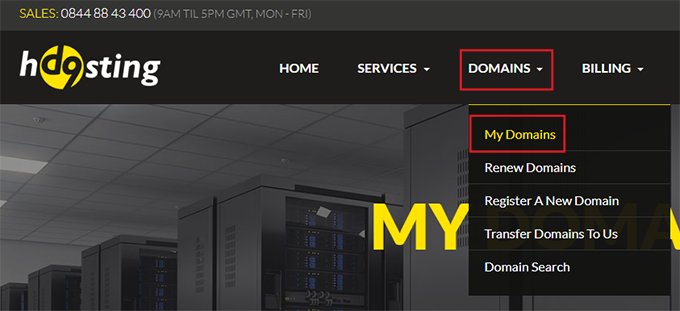 2. Click on the drop down arrow next to the domain name you would like to modify and click on "Manage Nameservers"





3. You can then set your nameservers to those given to you by your web host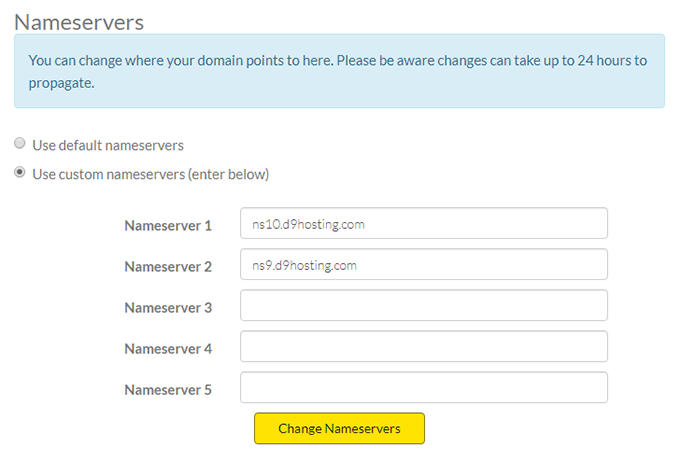 DO NOT USE THE NAMESERVERS LISTED IN THE SCREENSHOT ABOVE, they are not necessarily correct for the server that your account is on and are just used as an example. If you have a hosting account with D9 Hosting and are unsure what your nameservers are, please click here to discover how to find your nameservers.

*If you registered your domain with another registrar and wish to point to the domain to your D9 Hosting web space then the nameservers would be changed via the existing registrar rather than from within your D9 Client Area. Please submit a support ticket and we would be happy to help you if you don't know how to do this. Please include the domain name you wish to have the namservers changed on and also the login details to the domain registrar where you purchsed the domain.